OSTRIN FAMILY HISTORY
Table of Contents
Joanie
Mudita (Carol) Ostrin
Richard
Gary
Leighton
Andrea
Carolyn
Larry
Donna
Additional Information:
Dianne and Leighton Siegel
I am Dianne Siegel, married to Leighton Siegel. This family tree and history, with its stories and pictures is primarily about one branch of the Ostrin family. This branch (or twig perhaps, of a larger family tree) follows the descendents of Clayton and Ella Strimling Ostrin. It includes my husband, Leighton Siegel and our children and grandchildren as well as many others. Each of these forbearers had stories to tell if only we had thought, or had the opportunity, to ask.
Clayton and Ella were my husband, LeightonÕs, grandparents. And, as it happened I knew Ella as well.
The information and most of the pictures found here are the product of my own research and interviews with Sophie Duchony, my mother-in-law, Rose Siegel, her sister, Adeline Cohn, brother, Lloyd Ostrin, relatives Sophie Ostrin Banks, Charlotte Raymond, and her daughter, Joanne Raymond with the help of many others. This project was begun in the 1970s and has had several revisions since being digitalized in the spring of 2009.
Related family histories, such as Strimling, are also to be found on this website. A family history is never done. Many are now undergoing active revision.
You will find links to photo albums throughout this document.
The images are from the collection that we have and would love to add any that you might wish to make available to us.
For more information see www.SiegelPhotos.net. You can find all of the various families to which we are connected at that website. Click on the Family Link at the bottom of the home page.)
Dianne & Leighton Siegel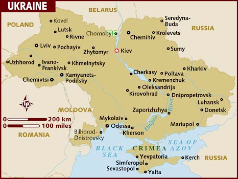 Map of the Ukraine in Russia
According to Sarah Banks and Sophie Duchony, the Ostrin family came from an area called the Ukraine which sits on the Russian-Poland border, in the town of Hershena, near Kritonslov, in Chernigov, Gaberna. A Gaberna is similar to a state, so Chernigov was both a city and the name of the State located in the Ukraine. Chernigov is in Northern Ukraine. The Ostrins were possibly also known in Konotop, because the Strimling family (Clayton Ostrin married Ella Strimling) lived in Konotop and knew of the Ostrin family. Konotop is also in Northern Ukraine, near Sumy, and also in Chernigov, Gaberna. Konotop is now a town of 70,000.
Clayton Ostrin's parents were Yehuda Labe and Tsviah Malinsansky (Malis).
| | |
| --- | --- |
| | |
| Yahuda Labe Ostrin | Tsviah Ostrin |
Tsviah Ostrin Yahuda Ostrin Tsviah died in 1921 in Russia. There were 16 children born of these parents, but only 7 survived. The surviving children were: Joseph, Morris, Lazar, Aran, Deborah, Hannah and Clayton, who was the youngest. Not a great deal is known about Clayton Ostrin's parents and he apparently didn't speak of them often. He did have pictures of his parents, however, that hung in his home during his lifetime. The general impression of some members of the family was that Clayton's father was strict and dictatorial. Other family members disagreed. Morris Ostrin also spoke critically of his father, describing him as inconsiderate, a poor husband, a vain man who paid a great deal of attention to his friends and a great deal of time visiting friends. It is known that Clayton began to work at an early age and that he was expected to contribute his earnings to the family income. The family was poor. Yehuda Labe was a misgeah - a person in charge of maintaining the laws of Kashrut. It is also possible that the Ostrins may have owned land at one time, although the land would have been taken away from them under the repressive regime of the late 1800's.
Tsviah is remembered as a kind person, who took in and fed orphans, for example. Morris spoke highly of his mother. She was a caring and devoted mother. In order that her children would not go to bed hungry, she would bring them bread and milk at bedtime. Of course, Yehuda Labe and Tsviah Ostrin are only memories to us now, and no one knows what they would say about their lives, the lives of their children or their own hardships.
Of the seven children mentioned above, only three of them, Joseph, Morris and Clayton went to the United States. The others did not want to give up their lives in Russia, which either weren't too bad at that time or if nothing else, were at least familiar. The May Laws of 1881, which inevitably led to pogroms and restrictions, made life very bad for the Jews. However, the Ostrin family in Russia may still have had enough money or position to make life tolerable. At least Deborah, one of the sisters, must have married well. She is remembered as being wealthy enough to have had maids.
Clayton Ostrin came to the United States in 1905 (historically a time of pogroms in Russia). He came with his friend, Chaim Strimling. The two had been in the Russian Army together and had run away shortly after the beginning of the Russian-Japanese War. Service in the Russian Army lasted 25 years. One thing that Clayton did not want to do was to march in the infantry, so he paid someone to teach him to play the flute. It was remembered that Clayton Ostrin reminisced about the hard life of the Russian army. He was treated unkindly and one of his tasks was to carry in the supply of water.
Clayton Ostrin married Ella Strimling (b 1887 d. 1960) in 1906. When Chaim Strimling, Ella's brother, came to America, he brought his friend, Clayton Ostrin, with him. They came to the United States around 1905. Clayton and Chaim had been in the Russian Amy together and when the war with the Japanese broke out in 1902 they ran away to avoid having to serve 25 years in the Russian Army. Clayton had no place he wanted to go, so he was happy to make his way to the United States with Chaim. Clayton had some money to help them along the way.
Ella Strimling is remembered as having said that her family had been aware of the Ostrin family in Konotop and if the two of them had met in Russia, they would not have been able to marry there because they were not of the same social strata. Fortunately this was not an issue in America. Listen to Ella Ostrin playing the concertina. This recording was restored from original 78rpm records made in 1948 at the home of Rose and Clarence Siegel.
During the course of their friendship, Chaim had shown Clayton a picture of his sister Ella and had told him how beautiful she was. Clayton was interested in Ella even before he met her. The story went that he was in love with her picture. It has also been told that when the family met the boys at the railroad station upon their arrival in Minneapolis, Clayton was upset because none of Ella's attention was for him, but was instead for her brother Chaim who she had not seen for a long time. Nonetheless, romance flourished and they were eventually married. Clayton always said that he wanted to marry a beautiful woman so that none of his children would suffer. Clayton owned a plant that manufactured dry cleaning and laundry machines. His son Lloyd eventually took over that business and continued to operate it. Ella and Clayton Ostrin had five children: Lloyd, Albert, Mary, Rose and Adeline. Clayton was born in 1882 and died in 1944.
Lloyd was born in 1907 and died in 1990. He married Lily Livon and they lived in Minneapolis. They had two daughters - Joanie and Mudita (whose original name was Karol). As stated above, Lloyd took over his father's business until he retired and the business was sold.
Joaanie Ostrin was born in 1937. Joanie is married to Jerry Goldstein. Jerry worked for Honeywell until his retirement. Joanie sells advertising for the American Jewish World. They have two children: Mark and Elle. Mark was born in 1959. He is married to Dee and they have two children: Joseph Allen, born in 1983 and Audra Rose born in 1985. They currently live in California. Joey is married to Amanda and they have a daughter, Danika born in 2007. Elle was born in 1964. She graduated as a language major and is married to Jacob Vaysberg, who had resettled in Minnesota with his family from Russia. They have three children, Jessica Leigh born in 1992, Jason Daniel born in 1994, and Leila born in _____.
Mudita was born in 1942. Mudita was previously married to Wesley Nisker. They have a daughter, Rose Ostrin Nisker, born in 1976. The family lives in Oakland, California. Mudita's educational background is counseling. She currently teaches and counsels. Her specialty is communication skills. She is active in music and dance, and particularly in the music and dance of Indonesia.
Albert Ostrin was born in 1911 and died in 1992. He had been married twice. His first wife was Bernice Sussman and they had two children: Richard and Gary. AI lived in Palm Beach, Florida until his death. He was an engineer by profession and worked extensively with pollution control. He held several patents in conjunction with his work.
Richard, AI's son, was born in 1940 and died of pancreatic cancer in 2008. He was married twice, first to Karen Ostrin and then to Nina Bourque. Richard and Karen had a daughter, Vaara, who was born in 1972. Vaara is married to Tom Schooley and they have two children, Joren (2004) and Daniel (2006). Vaara is a professional photographer and Tom works in the computer field. Richard worked in a variety of jobs including construction and as a mill wright, and later owned a shop in the Mall of America. He also was a father to Lilia and Joshua, both children that were adopted from India by a former friend and business partner, Susan Steinfels. Richard had a special relationship with his dog, Basho. The dog went everywhere that Richard went and was his personal bodyguard and assistant.
Gary, AI's son, was born in 1947. He is not married. Gary is a salesman and lives in Minneapolis with his long time significant other, Ernestine Terry.
Mary Ostrin was married Moritz Kapelovitz at a very young age. Mary met Moritz quite accidentally at her own house while her mother was intending to introduce him to a different girl named Mary. She happened to come in while Moritz was there and he was very taken with her. She married him and they moved to Dickenson, North Dakota. She was married for only 10 months. Mary died of extreme vomiting and dehydration due to pregnancy. Moritz brought her back to Minneapolis, but it was too late and nothing could be done to save her.
See a two minute movie taken at Battle Lake, Minnesota in 1943 by Clarence Siegel which includes clips of Clarence, Rose, Leigton and the Adeline Cohn family.
Rose married Dr. Clarence Siegel in 1935. They eloped because Clarence was then an intern at Ancker Hospital and it was breach of his contract to marry. Rose's parents were aware of their plans to elope and were pleased. They kept their marriage a secret until Clarence finished his internship.
Clarence's medical specialty was allergy and internal medicine with a subspecialty in diseases of the chest. When Clarence retired from his medical practice, he and Rose moved to Florida for the winter months. During the years that Clarence was practicing medicine in St. Paul, Rose was very active in the Jewish Community in St. Paul. She served on many boards of various organizations and was particularly active in raising money for Israel. She was awarded the Woman of Valor Award for her outstanding work with Israel bonds. Clarence died in 1978. Rose remarried Leon Bernstein in 1986. Leon was a founding partner of the accounting firm of Laventhol and Horwith. His home was in Philadelphia, where Rose and Leon sometimes spent their summers. West Palm Beach remained their winter home. Rose returned to St. Paul to be near family and lived there for several years before her death.
Rose and Clarence had three children: Leighton, Andrea and Carolyn.
Leighton Siegel was born in 1937. He married Dianne Ziskin in 1966. Leighton went to the University of Minnesota Medical School, interned in Sacramento, California and did a residency in Ear, Nose and Throat at University Hospitals in Baltimore, Maryland. He then practiced Otolaryngology in St. Paul, MN and was a clinical Assistant Professor at the University of Minnesota Hospitals. His wife Dianne, has a Master's Degree in social work from Berkeley, University of California and worked as the director of senior services at the St. Paul Jewish Community Center until she retired. They have three children: Pamela and Lesli, twins born in 1968 and Jeffrey born in 1972. Pam graduated from Ann Arbor with an Engineering Degree and has an MBA from University of Chicago. She is married to Jon Passman and they have three children: Abraham b 1999, Jordan 2000, and Eve 2004. Both Pam and Jon work in business. Lesli currently works for Abbott Pharmaceutics in Human Resources. She received her undergraduate degree from Northwestern as well as her MBA. She is married to Michael Marasco, who also has an MBA. He currently teaches entrepreneurship at Northwestern University and they have two children: Sophia, b. 2002 Andrew b. 2004. Jeffrey is currently a web designer for Best Buy. He graduated from Minneapolis School of Art and Design. He is married to Andrea Onell Siegel and they have one child, Ezra James b. 2008.
Andrea Siegel was born in 1944. She married Robert Karsh in 1966. They live in Carimichael, California. Rob is a child psychiatrist and Andrea was a social worker in a nearby hospital until her retirement. Andrea has an undergraduate degree in education and a master's degree in social work. Andrea and Rob have two children: Julianne, born in 1969 and Jonathan, born in 1971. Julie is married to Dan Chinn, a physician, and they have two children, Benjamin, b. 2003 and Olivia b. 2005. Julie works in marketing. Jonathan graduated from the University of California in 1994. As a high school student, Jonathan had a unique opportunity to participate in a local television program, which featured four teenage news reporters, of which he is one of the four, as well as other television opportunities. Since those early days, he has produced television programs, hosted a nightly program in the SF area, produced a film, My Flesh and Blood, that received awards at the Sundance festival in 2007 and was purchased by HBO. He is married to Jennifer Axen and they have one child, Mya b. 2006. Jen is a marketing consultant.
Carolyn Siegel was born in 1947. She married Elliott Mittler in 1972. They live in Woodlawn Hills, California. Carolyn has a master's degree in nuclear medicine and works in her field. Elliott has a PhD in Social Biology. He has taught and is also an appraiser of art and a collector of art. His other interest is in studying natural disasters. Carolyn is a avid horsewoman, riding and competing in horse shows on a regular basis and in 1987 was a top ranking amateur in her division.
See a
two minute movie
taken at Battle Lake, Minnesota in 1943 by Clarence Siegel which includes clips of Adeline, Bernie, Larry and Donna Cohn as well as the family of Rose.
Adeline married Bernard Cohn who is deceased. He was a C.P.A. Bernie was a graduate of Northwestern University. Adeline and Bernie lived in Chicago. They have two children: Larry and Donna.
Larry Cohn was born in 1939. He is married to Pearl Tillis. Larry is a C.P.A. Larry is a graduate of DePaul University. Pearl has a degree in advertising from Northwestern University. She is currently employed as a travel agent. Larry and Pearl have twin daughters, Lisa and Beth, born in 1969. Beth attended the University of Michigan, Ann Arbor where she majored in music and Lisa attended the Rhode Island School of Art and Design where she majoring in Art.
Donna
Donna Cohn was born in 1942. She has a degree in education from Northwestern University. Donna is married to Tom Stone. He has a degree in anthropology from Northwestern University. He is Chairman of Stone Capital Group. Donna and Tom have two children: Kimberly b. 1966 and Tom, Jr. b. 1969. Kim is a graduate of Middlebury College in Vermont and has a Masters degree in Public Policy and also in Population Planning from the University of Michigan. She is active in environmental issues. Kim is married to Ken Wexler who is a Landscape Architect. They live in Highland Park, IL with their two boys, Gabriel b. 1998 and Raphael b. 2000. Tom, Jr. attended the Eastman School of Music, Cleveland Institute of Music and the San Francisco Conservatory where he received undergraduate, graduate and post graduate degrees in violin and chamber music. Tom is married to Iris, a professional violinist from Germany. They live in San Francisco with their two children, Daniel b. 2000 and Hannah b. 2003. Tom is a founding member of the Cypress String Quartet. All 3 generations (particularly the 1st) spend as much time as they can in beautiful Telluride, CO where they have a home.
Clayton Ostrin's brother, Morris Ostrin, came to the United States about two weeks after Clayton. In 1906, the next year, the third brother, Joseph Ostrin, came to the United States. In later years, Morris and his family moved to California.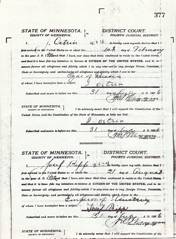 Joseph Ostrin intention to become a United States citizen
Joseph Ostrin had a yard goods business in Russia. Joseph had a great deal of trouble in Russia, in that the windows of his business were continually being broken in his store. Eventually he built a store made completed of tin with no windows at all. Joseph Ostrin and Anna were married in Russia and their first four children: Sarah, Samuel, Mary and Abe were also born in Russia.
Sarah remembered that when they were preparing to travel to the United States, the family first went to her paternal grandparents' home to say good-bye. They arrived at three in the morning and the entire family got up to greet them and wish them well. They left Russia as a well-to-do family. For example, they traveled second class instead of steerage, and all the family members had passports. Sarah remembered her father once being asked for his papers as they walked the streets of Hamburg and he was able to show them without fear. The family had also sewn money into Anna's skirts, so that they would have a little nest egg to get them started in the new country. They traveled from Hamburg to New York and then took a train to Canada and then a train to Minneapolis. The ship they traveled on was the "Patricia."
It was extremely difficult for the family to make the adjustment to life in the United States. They left a place where they had had some material advantages, a good business and a family that was known in the community and came to the United States where Anna had to do all of her housework without the maids she had in Russia and where the language was strange and where it was very difficult for Joseph to make a living. He tried everything from cleaning streets when he first arrived, to having a dairy farm in New Brighton, to selling bread and vegetables and eventually to operating a grocery store. The first grocery story was on 8th and Dupont in North Minneapolis and then on 6th and Jewett Place and eventually on Thomas and 14th Ave. Anna worked side by side with her husband all of their years.
Sarah remembered her mother as being very kind and caring about others. She would bake too much bread intentionally and then tell her less fortunate neighbor that she would appreciate her taking it off of her hands as she had too much for her own family. When Anna tried to persuade other members of her family to join her in America, they were always reluctant to leave their familiar world. They stayed in Russia and eventually were lost and not heard from again.
Joseph and Anna Ostrin had seven children. The children were Sarah, Samuel, Mary, Abe, Phillip, Louis and Bennie.
Morris Ostrin came to the United States in 1906 two weeks after Clayton Ostrin, his brother. He had been in the dry goods business in Russia and was considered successful. He owned a fur lined coat and a fur hat and only the well-to-do could afford such a luxury. His wife's name was Rose. They lived in Minneapolis at first and later moved to California. Morris and Rose Ostrin had four children: Sophie Duchony, Louis Ostrin, George Ostrin and Nathan Ostrin.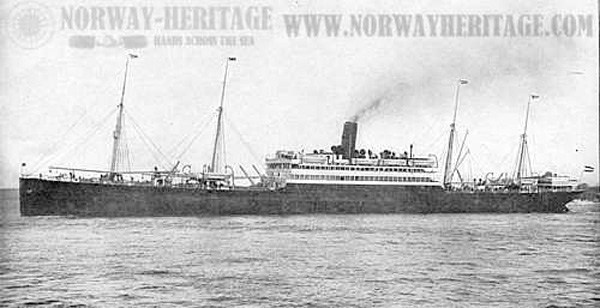 The ship that Morris traveled on
Sophie Duchony wrote to me about her memories of her father. She remembers that Morris and Clayton would reminisce about their life in Russia. On Morris' way to America, he stopped for the Sabbath in a small village called Bachmetch to spend the Sabbath with cousins. This is where he met his wife. She was 16 and he was 26. After seeing her come into his cousin's home, he told his cousins that this was the girl that he would like to take to America with him. Three weeks later, they were married and left for America. Thus Morris avoided the matchmaker's attempts to match him up with "suitable" daughters and did his own choosing.
When Morris and Rose Ostrin came to the United States, they thought that they had brought enough Russian money to last for six months. The Russian money had half of the value it would have had in Russia. Life was very difficult. Morris worked very hard - 12 to 14 hours a day, cleaning streets, peddling smoked fish, working in a Munsingwear factory. He had never worked that hard in Russia. In spite of the hardship endured, he loved his new country because of the freedom and the possibility of improving one's lot in life even if it meant hard work.
Morris Ostrin learned the dry cleaning business from his brother, Clayton. He went into that business in 1916 when his son, Nathan, was born. He went into a partnership with two other men with whom he was working. His investment was $50.00, which his wife had saved up from her household monies.
With the first $50.00 that Morris saved when he came to the United States, he bought a lot at the edge of Minneapolis, which was then Emerson Avenue North. He built a three-room house on it. As his finances improved, the house improved. It eventually became a five-room house. It turned out to be one of the nicest houses on the block. At one time, Morris raised prize chickens and sold eggs only to sick people. The eggs were very special as the chickens were fed a special diet. Morris subscribed to magazines relating to the breeding of chickens and had an incubator for hatching chickens. His children remember watching the eggs crack open and the chicks emerge from the shell. This hobby had to be given up as his prize chickens were stolen one by one. Thieves would break into the hen house. The next-door neighbor built a trap for the chickens. Even though the yard was fenced in, the chickens would scratch underneath the fence and would get into the next yard and into the neighbor's trap.
The Morris Ostrin family lived in Minneapolis from 1906 until 1948 when they moved to California. This came about when Rose Ostrin, wife of Morris, her son Louis, and Sophie Duchony's son, Larry Brody, went to California to visit Rose's sister. This was in December 1947. Rose fell in love with California. She loved the green grass, the blooming flowers and the wonderful climate. Three months later, Louis Ostrin was married and he decided to settle in California. Rose said that she had endured enough cold, mud, and dirt and she decided that she would like to also move to California. After Louis' wedding Morris returned to Minneapolis to sell the house, liquidate his business affairs and move to California.
Unfortunately, Morris did not live long after he returned to California. He wasn't happy with retirement. All his life he had been active and his business was successful. In California, the city was much bigger than he was used to and he was afraid to drive. The sights were not familiar and he was no longer a wage earner. Morris was very handy with the hammer and saw. He dismantled the crates that the furniture came in when it was shipped from Minneapolis. He built play furniture for his grandchildren and he built a den in half of the garage. He removed the garage door and built a door with a window on either side of the door. Besides building, he loved to garden. Morris' life ended tragically. He was run over by a streetcar, while doing a good deed for someone he knew. Rose became blind in later years, but still kept house and continued to bake.
Morris and Rose Ostrin had five children. The first one, a girl, lived only two weeks. Sophie Duchony was the second child. After Sophie came Louis, George and Nathan.
Although neither the Ostrin nor the Strimling family lived in Chernigov, they lived in that area. Chernigov was the Gaberna, or the State as we would think of it. The following information taken from the Museum of the Diaspora in Tel Aviv, gives a picture of what life was like for the Jews.
Cherigov, Capital city and oblast (province) in Ukraine. Under Soviet rule the province was divided between Russian S.F.S.R. and the Ukraine S.S.R.
An indication that Jews were living in the city of Chernigov in the Middle Ages is provided by a 13th century manuscript which mentions "A.R. Itze from Sarangov" (Issac of Chernigov). In 1623 the king of Poland, Ladislas IV, ordered the expulsion of the Jews from the districts of Chernigov and Seversk after complaints by the Christian merchants and craftsmen about Jewish competition. However, the decree was not implemented. The community of Chernigov is recorded among those destroyed during the Chmielnicki Massacres of 1648. Chernigov passed to Russia in 1667 and the Jewish community was not renewed until the partition of Poland at the end of the 18th century. There were 1389 Jews living in the city and district in 1801. There were 2783 in 1847. The census of 1897 recorded a Jewish population of 8799 in the city (31.7% of the total) engaged in commerce and crafts (tailoring, shoemaking) and also in tobacco growing and business connected with the orchards in Chernigov and the vicinity. Chabad Chasidim had a strong following in the community and from the middle of the 19th century, Peretz Chen, one of the outstanding Chabad Chasidim, officiated as Rabbi of Chernigov followed by his son, Chayyim David Tzevi Chen.
In October, 1905 the Jews in Chernigov organized self-defense against pogroms there. There were 13,954 Jews living in Chernigov in 1910. Under Soviet rule communal and religious life came to an end. Many Jews left the city, and in 1926 there remained 10,607 (approximately 30% of the total population). The Jewish population was liquidated during the Nazi occupation in 1941.
Jews returned to Chernigov after the war and were soon subject to the restrictions imposed on all Russian Jewish communities. The last existing synagogue was closed down by the authorities in 1959. All religious articles were confiscated and put in a museum. The Jewish cemetery was in a bad state of repair and in 1961 a local paper carried an article against separate Jewish burial rites. In 1970 the Jewish population of Chernigov was estimated at 4,000. Museum of the Jewish Diaspora, November 20, 1980.
The following information is from a 1980s interview with Sophie Ostrin Banks, her daughter, Charlotte Raymond, and her daughter, Joanne Raymond.
Joseph and Anna Ostrin had seven children. The children were Sarah, Samuel, Mary, Abe, Phillip, Louis and Bennie.
Sarah, the oldest, had three children: Lucille, Charlotte and Edith. Sarah had been married to Aaron Banks. She divorced him when the children were little and raised her children as a single mother. Aaron Banks moved to California and communicated by letter with his children. Lucille was married twice, first to a Mr. Weisberg and then to a Mr. Sidney Lebo. She lived in Minneapolis. Her children were: Jewel Madnick, who lived in California and Richard Weisberg, who was a salesman, married and had one child of his own. Charlotte was married to Leslie Raymond. They lived in Minneapolis. Charlotte was a registered nurse and her husband Leslie owned and operated a mail order school supply business entitled IASCO. They had three children: Joanne, who was a pharmacist, lived in Minneapolis and was married to Michael Dickel. They had a child Julia Sarah Bickel born approx. 1985. Michael Raymond was married to Sally Abrams and they had a child, Rachel Ariel, born in 1986. Michael was Vice President of the family business. MaryAnn Raymond, while in school had a special interest in dramatics and appeared in local theatre productions in Chanhassen for many years. She then became a computer engineer and worked for IBM.
The third child of Sarah Banks is Edith who was married to Merlin Grossman. They lived in California. Edith taught school and Merlin was a professional photographer. They had two children: Carrie Lynn Bouvais and David.
Samuel Ostrin was also known as Jack. Samuel Ostrin was the second child born to Joseph and Anna Ostrin. He became a professional boxer who went by the name of Jack O'Toole. He boxed for a short time in his younger years. His wife's name was Marian Kammen. They had one adopted child who died. Samuel (Jack) died at a young age.
The third child of Joseph and Anna Ostrin was Mary who was married to Irving Berklan and lived in Chicago. They had three children: Howard, Eugene who had three children, and Ira who had three children.
The fourth child of Joseph and Anna Ostrin was Abe Ostrin also known as AI. He married Millie. She was the first Miss Minnesota and was very beautiful. He died young.
Phillip Ostrin was the fifth child of Joseph and Anna Ostrin. He died when he was just 27 years old. He had never married. I was told that he died in the hospital of a heart condition that he had for many years.
The next son of Joseph and Anna Ostrin was Louis. He was nicknamed Lampy Louie because he had a glass eye. His wife was named Josephine. He lived in Minneapolis. He was in the liquor business. He raised his family in the Catholic faith. He and his wife had two daughters: Betty married to Larry Hasslinger, who has two children and Julia married to Steve Friedman who had two daughters. Louie died in 1987 at 81 years of age.
The youngest son of Joseph and Anna Ostrin was Bennie. He also died as a young man. The family story was that Samuel, Abe and Bennie, the brothers who died young, had gotten into trouble gambling and had been killed by underworld gangsters.
Sophie Ostrin was first married to Joseph Brody who is deceased. Their son, Laurence S. Brody is married to Patti Carroll. She had three children by a previous marriage. Larry was a psychiatrist. His practice was in Torrance, California. Patti was a registered nurse in charge of the Pain Clinic at Torrance Memorial Hospital in Torrance, California. They lived in Rolling Hills, California. Sophie's second husband was William Duchony who is also deceased. Their son, Michael Paul Duchony was married to Hariaclia Mangiameli. They were married in April, 1980. Michael was a sports reporter for television
station KESQ, Palm Springs, California. he won numerous awards for reporting for both radio and television. Hariclia was a news reporter on radio in Palm Springs.
Louis Ostrin was married to Anne Sebulsky. He was in the property management business. They had a daughter, Marsha.
George Ostrin was married to Anne Locketz. He is now deceased. They had a daughter Judy and a son, Steve. Judy was married to Gordon Potik. Judy was involved for many years in a horticulture management service. Later, she opened up an Art Gallery in combination with her management service in Culver City, California. Her husband, Gordon, was a principal analyst in charge of designing systems, installation of systems and supporting systems in the computer field. He was a member of Culver City School Board and had been active in the youth program for many years at Temple Akiba. They had two children: Ellisa Michele, born August 11, 1966 and Gregory Jerome, b. July 21, 1969.
Steve Ostrin had a son, Kenneth Robert Ostrin, b. July 20, 1973. He was the son of a first marriage. Steve was remarried in 1980 to Patti Price. Steve was a music major and for a long time he free-lanced with various music combos as guitarist and vocalist. For the past five years, he has been in the insurance area of academic personnel at the University of California, Irvine Campus.
Nathan Ostrin was married to Edna Nupol. Nate was in the dress business. He had two large stores in downtown Los Angeles wholesale district. His business was discount women's clothing. His wife helped him in the business. They had two sons: Murray Ostrin, who had a degree in the computer field, but was working in the family business and Ronald Ostrin, who was a lawyer.